Customer service is definitely another winning element of the Pokerstars Sports offer. Confirming its great reliability and attention to its users, Pokerstars Sports once again offers a complete and quality service for which you will have the opportunity to contact the bookmaker through various media. As with most betting sites, Pokerstars Sports also offers a FAQ section that may already solve some problems and answer any questions.
The Pokerstars Sports customer service is active 7 days a week, during limited hours from 7am to midnight. The Pokerstars Sports customer service tries to provide its customers with a valid and efficient support, in order to manage problematic situations that may occur right at the time of betting. If you are looking for Pokerstars Sports contacts, please note that support via chat and phone is currently deactivated, while you can contact the support team via email and get feedback on even complex issues in a relatively short time.
Pokerstars Sports app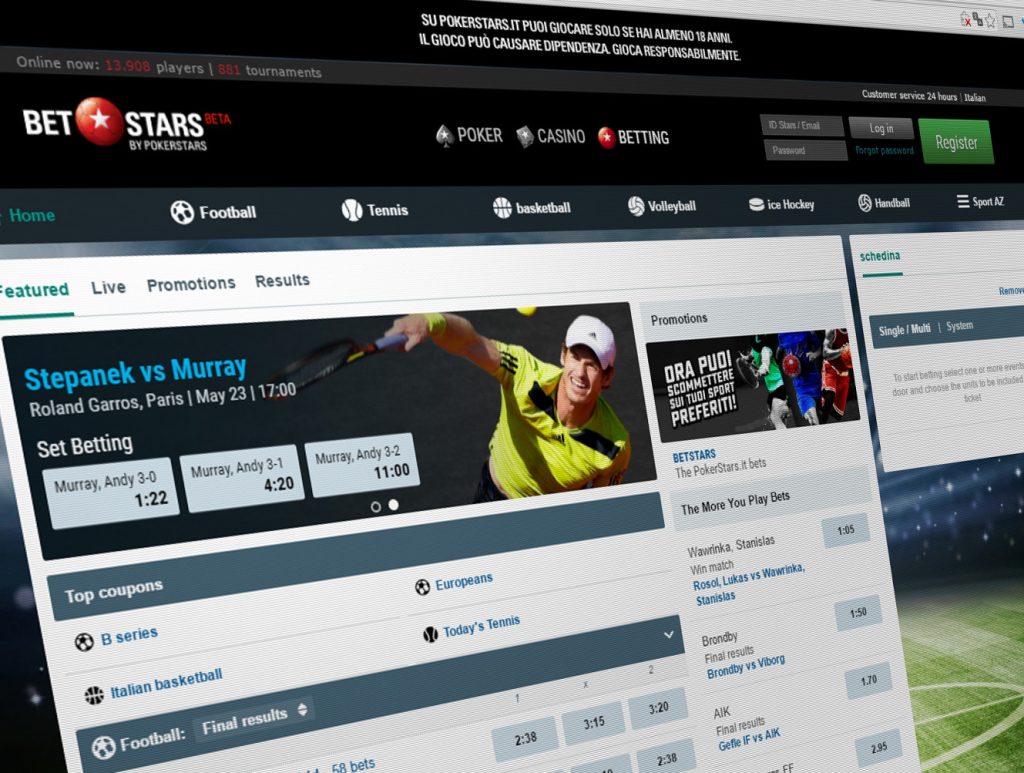 Pokerstars Sports can be used with mobile devices, of course: the operator once again proves to be in step with the times and able to meet the needs of the market and users. There is a Pokerstars Sports app available for all customers who have an iOS device, while there is no sports betting app dedicated specifically to the Android world (you can only download the one for poker). There is, however, a mobile app that allows the same type of navigation as on a PC. All in all, we can say that this is a complete service with a clear organization, which seeks to provide quality services to all profiles of its large customer base.
Pokerstars Sports registration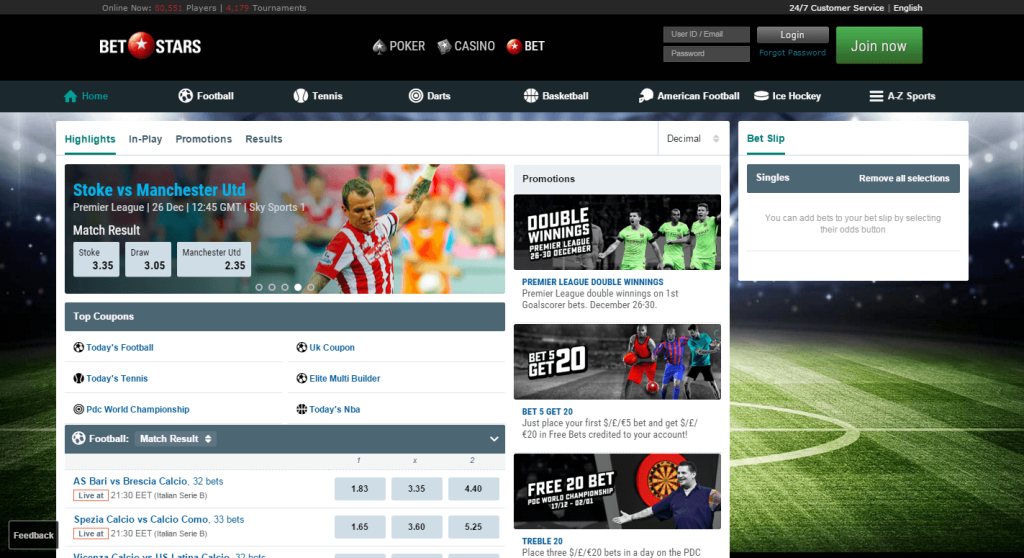 1) Go to Pokerstars
First you need to go to the official website of the book. Once you have typed in the correct url, all you have to do is go to the top of the page and click on "Register". Once you have clicked on the Register button, a series of windows will open automatically in which you will have to enter the required personal data.
2) Enter your data
This second step is one of the most important when registering at Pokerstars Sports. The principle is simple, you must enter the information requested by the bookmaker in a strict and careful manner. Example: if you enter the wrong information, the entire registration may be rejected because the site needs your email address to validate the registration and your identity to validate the registration.
Please fill in carefully the fields regarding country of residence, email address, first name, last name and all other required information. Pokerstars Sports will only ask you to enter your country of residence, a valid email address, your gaming nickname and a password that meets the minimum requirements for length and characters used. For your information, these last two pieces of information will be required every time you want to log into your account.
Try to find a password that is complex enough to ensure security but at the same time easy to remember. In the event of loss or if you want to change your password, it is best to have no difficulty in recovering it or in establishing a new one. Also consider the secret question, which will be the quickest way to access your account if you lose your password. The name of your uncle or dog might be an idea, otherwise you can always name your favourite football player!
3) Make your first deposit
After you have completed your new account, you can proceed to deposit money into your account and Pokerstars Sports will open a window for you to fill in the payment method and the amount to be deposited. To be precise once again, it is money that you will use on Pokerstars to place sports bets. As we explained earlier, there are different payment methods available to users. We at Sportytrader suggest paying by credit card which is always one of the safest ways to make online transactions. After entering the card number, the security code, the expiry date and the name of the cardholder, choose the amount you wish to deposit into your account.
In this regard, do not forget that to get the Pokerstars Sports welcome bonus of up to $100, you must place your first bet that must be imperatively be a multiple bet with minimum 3 events and minimum odds of 3.00. If the first bet turns out to be a loser, the operator will refund 100% of the amount played up to $10. The bonus can be up to $100 in total: simply bet $100 on multiples with odds of 3.00 with a minimum of three events and the operator will pay out $10 each time. This can be repeated up to 9 times. The procedure is the same for any type of support you decide to use.
4) Validate the account by sending the required documents
Last but equally fundamental step is the validation of the game account: as first thing you will be asked to validate the email address through a special code that has been delivered in the mailbox at the time of registration. Once you have found the email containing the validation code, move on to the next step: open the Pokerstars Sports software and select "Account -> Validate Email Address".
You will be asked to log in, unless you have already done so; to do so, simply enter your User ID and password: you will now see a window appear where you can enter the "Validation Code" in the appropriate field and then click on "Validate" after typing in the code. You should see a window informing you that your e-mail address has been validated. This will activate your account and allow you to start playing on Pokerstars Sports. If you receive an error message saying that your code is incorrect, make sure you have typed it in correctly, and check that you are not trying to use an old one (if you have requested more than one, only the most recent one will work).
At this point, within 30 days of opening your account or else it will be suspended, all you have to do is send a copy of the front and back of the document in order to be able to freely dispose of your funds; remember that you will not be able to make withdrawals until you have sent the Pokerstars Sports team a valid document (as is the case with all bookmakers). This is necessary in order to prove your age, protect sensitive data and ensure that the service runs smoothly. The best way to send (because we are not Pokerstars Sports) the documents is through the client.